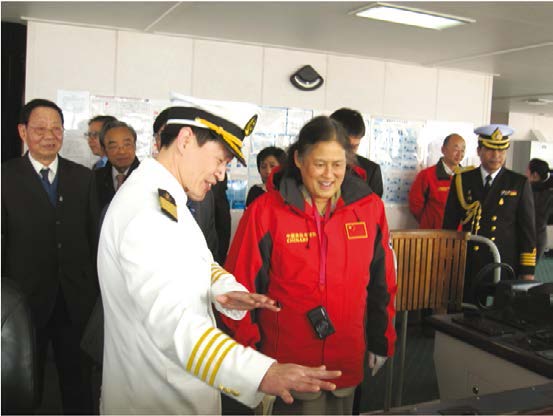 Her Royal Highness Princess Maha Chakri Sirindhorn on the Icebreaker "Xue Long"
on April, 2013.
          Her Royal Highness Princess Maha Chakri Sirindhorn is the first Thai to visit the Antarctica. On a visit in November 2013, Her Royal Highness stayed at Scott Base, the research station operated by the government of New Zealand. Her Royal Highness also and also visited the USA's McMurdo Station. She learned a great deal about the research at both stations, particularly pertaining to biology, ecology, meteorology and the environment. Following the visit, Her Royal Highness wrote the book "Antarctica: Coll Summer", which is a record of her visit to New Zealand and Antarctica.Her Royal Highness wrote that "it was my great adventure".
          In 2004, NSTDA had discussed with the National Institute of Polar Research of Japan, requesting support for support for Associate Prof. Dr. Voranop Viyakarn, Department of Marine Science, Faculty of Science, Chulalongkorn University to travel to Japan's Syowa Station in Antarctica Continent, together with the Japanese research team called JARE-46 (The 46th Japanese Antarctic Research Expedition). In 2009, Associate Prof. Dr. Suchana Chawanich, also from Chulalongkorn University worked with the JARE-51 team and later wrote the book "Antarctic…the Land of Ice". When Her Royal Highness read this book, she thought polar research is beneficial for the country and there should be a project which supports Thai researchers to continuously conduct polar research. Her Royal Highness suggested that we pursue collaboration with China in this area through Shanghai's Polar Research Institute.

Why would polar research be beneficial to Thailand?
           As Associate Prof. Dr. Suchana Chawanich has pointed out, "Global warming or climate change is a problem that needs international collaboration. Based on data from ice excavation and other polar research activities, we can tell a lot about global weather patterns in the past and present. Polar warming also contributes to climate change because it releases methane, a major greenhouse gas, and reduces the 'mirror effect' of the ice that reflects the sun's rays back to space. Taking the opportunity to join in polar studies shows that Thailand pays attention to this big global problem and it also enables Thailand to gather information to deal with the changing climate.''
           On a visit to China in April 2013, Her Royal Highness visited the State Oceanic Administration in Beijing and the Polar Research Institute of China in Shanghai, and received honorary certificates from each of them. Her Royal Highness had communicated, via video conferencing, with Chinese researchers who were working at China's Great Wall Station, located on King George Island, Antarctica. She also observed the Icebreaker "Xue Long" (雪龍-snow dragon) which had just travelled back from the South Pole to Shanghai. The visit was a starting point of the cooperation in polar research between Thailand and China.
           An agreement was signed with the Chinese Arctic and Antarctic Administration on July 30, 2013. NSTDA then co-ordinated with Thai universities to select Thai researchers whose research are related to polar science and submittedthe list to Her Royal Highness for final selection T. C. Pharmaceutical Industrial Co., Ltd. generously offered to provided financial support for Thailand's polar research for five years. Associate Prof. Dr. Suchana Chawanich and Assistant Prof. Dr. Onruthai Pinyakhong of the Faculty of Science, Chulalongkorn University were selected to the first of the collaboration the first research collaboration. They travelled with the survey team of the 30th Chinese Antarctic Research Expedition (CHINARE-30) during January 1 to February 10, 2014, doing research at the Great Wall Station. The expedition was joined by 50 researchers from seven countries.
           The Thai researchers would collect samples in the area of the research station to bring back for further study. They also joined Chinese researchers on trips to study populations of penguins and seals on King George Island and surrounding islands, and participated in a meeting at the Escudero Station, operated by the Republic of Chile, which is also located on King George Island. The Thai researchers later wrote a project report titled "Thailand Antarctic Research Activities with CHINARE 30".

China's Great Wall Station, located on King George Island, Antarctic.
           In March 2013 Her Royal Highness Princess Maha Chakri Sirindhorn ventured to the North Pole. While there, she initiated a cooperative project with the government of Norway for Thai scientists to participate in activities at the Norwegian research station in the Svalbard archipelago. During her stay on Svalbard, Her Royal Hight visited several research facilities, including the Svalbard Global Seed Vault, Svalbard Museum and Svalbard Science Centre in Longyearbyen, where she listened to presentations on the research conducted on Svalbard, including research on climate change and biodiversity. She also went on a snowmobile tour of the area. More than half of Svalbard's 61,000 square kilometers is permanently covered by ice and snow. The sun doesn't rise at all for four months in winter and it doesn't set in summer.
          Upon her return Her Royal Highness asked the Ministry of Foreign Affairs and NSTDA to explore the possibility to develop collaboration with the University Centrein Svalbard (UNIS) and Norwegian Polar Institute (NPI). Other Thai institutes that have potential to join in this Arctic research collaboration are Geo-Informatics and Space Technology Development Agency (GISTDA), National Institute of Development Administration, Chulachomklao Royal Military Academy, Faculty of Science Chulalongkorn University, and National Astronomical Research Institute of Thailand.
           Research by Associate Prof. Dr. Suchana Chawanich The research paper by Associate Prof. Dr. Suchana Chawanich titled "The climate change impact to sea animals on the coast of the Antarctic continent'' details the findings resulting from her continuous observation of marine animals and sampling of marine sediments in 2004/2005 and 2009/2010. To obtain the samples the researcher had to wear a dry suit and dive into the frigid waters which were never above 4 degree Celcius. Diving in polar waters requires a high level of skill and physical fitness.
           Research by Assistant Prof. Dr. Onruthai Pinyakhong Assistant Prof. Dr. Onruthai Pinyakhong has been studying samples of sediment around Syowa Station, a Japanese research station on East Ongul Island in Antarctica, since 2011. She has found many interesting microorganisms. Her focus is the function of microorganisms involved in the biological decomposition of pollutants. The research provides important information that promotes a natural and environmentally friendly approach to removing contaminants in low temperatureareas. It also sheds light on the function and adaptation of microorganisms that are resistant to low temperatures. The knowledge gained may have industrial and environmental applications.